Real tastes of Lapland
Sit down to enjoy great food in good company at Holiday Club Saariselkä. In addition to our deliciously fresh buffet dinner you can also choose from a full a la carte menu.
Atmospheric restaurant Rakka offers traditional northern food in the center of Saariselkä. In Holiday Club Saariselkä hotel's own restaurant Revontuli you can build your meal from the seasonal buffet menu. Restaurant Revontuli offers also breakfast for hotel clients.
Holiday Club Saariselkä is open until 30th of April
We operate in accordance with the regulations and guidelines of the authorities regarding the COVID-19 pandemic and are restricting our activities at our spa hotels.
Holiday Club Saariselkä opens with limited functionality
Hotel accommodation, Restaurant Rakka, reception, R-kioski and Aurora Spa treatments will serve as normal
Spa open 3 pm-8 pm
Hotel guests are offered a take-away breakfast 7 am - 10 am
Restaurant Rakan take away menu is available to all guests from tuesday-saturday 4 pm - 9 pm. Call to order take-away or reserve a table, +35830 686 6322.
1st-31st of May Key service limitedly open between 11–18, restaurants and waterpark closed
The following services will be closed between 1.5 - 7.6:
Hotel accommodation, spa and restaurants

Hotel reception, R-kioski and souvenir shop serve daily 11am - 6 pm.
Follow the updated information from here >>
The cosy Restaurant Revontuli is a buffet restraurant.
Brekfast is served 7 am to 10 am. You can start the day maybe with oat meal or fresh fruits. The choice is yours from a large selection. Gluten free and lactose free diets are taken into account at our breakfast serving. Also the substitutes for cow milk are available.
Soup lunch is served daily.
Dinner buffet is served at high season times.
Table reservations and inquiries:
hotelsales.saariselka@holidayclub.fi or tel. +358 (0)30 870 966.
Opening hours
Breakfast daily at 7–10 am
Breakfast is included in the hotel accommodation price. For all others
the price is 16 €/adult, 10 €/child.
Soup lunch closed for now
Buffet dinner closed for now
Bar open daily 9 am to 12 midnight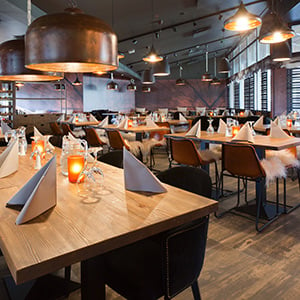 Opening hours
A la Carte available tue-sat 4pm–8pm
Order by phone +358 30 686 6322, or on the spot at the reception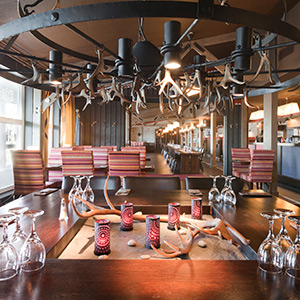 Gluten-free choices at our restaurants
Gluten-free choices for bread, granola and porridge are served at breakfast and dinner buffet.
Different dietary requirements are taken into account in the breakfast and dinner buffets.
Dietary requirements are also taken into account on the Rakka Restaurant's à la carte menu.
Most of our dishes are possible to have gluten-free. Our staff will help you with any questions.
Contact info
Welcome to Holiday Club Saariselkä!
Reception is open daily 7 am to 10 pm, at high season times 24 h
The key service is located at the reception
Left-luggage space at the reception
| | | |
| --- | --- | --- |
| | Check-in | Check-out |
| Hotel | at 4 pm | at 12 pm |
| Holiday houses | | |
| Kermikkä | at 4 pm | at 11 am |
| Laavutieva, Niilihonka, Riekonraito, Tirrolampi | at 5 pm | at 11 am |
| Kelotirro, Siulaselkä | at 6 pm | at 12 pm |
| Villas apartments | at 4 pm | at 11 am |