Holiday Club Tampereen Kylpylä is located in the central city of Tampere, in the Lapinniemi district by a beautiful lake Näsijärvi. The Spa hotel is built into a century-old cotton mill that has been renovated and modernised to meet the needs of spa and conference guests.
Changes in opening hours
We operate in accordance with the regulations and guidelines of the authorities regarding the COVID-19 pandemic and are restricting our activities at our spa hotels. Spa hotel and most of its services are closed till 2 May, but we open servicies May 2. Our holiday homes remain open to both owners and lessees at all of our resorts. The hotel receptions and R-kiosks will serve those staying at the holiday apartments.
Follow the updated information from here
Holiday Club Tampereen Kylpylä opens 3.5:
Hotel reception and R-kioski are open 24/7
Harmony Spa open Mon-Sat 9 am-8 pm
Restaurant Cotton
breakfast: Mon-Fri 7-10 am, Sat-Sun 7.30-10.30 am
lunch/dinner: Mon-Fri 11 am-10 pm, Sat noon-10 pm, Sun closed
Restaurant Classic Pizza open:
Mon-Thu closed
Fri 3-10 pm
Sat noon-10 pm
Sun noon-8 pm
Pool bar (open: Mon-Fri 2-7 pm, Sat 11.30 am-7 pm, Sun closed)
Spa (open: Mon-Fri 2-7.30 pm, Sat 11.30 am-7.30 pm, Sun noon-6 pm)
Accommodation
The accommodation options available at Holiday Club Tampereen Kylpylä include rooms in the spa hotel and holiday apartments. You can choose whichever option suits your preference: a spacious room in the modern hotel wing or a unique holiday flat constructed honouring the setting in the age-old cotton mill.
SPA HOTEL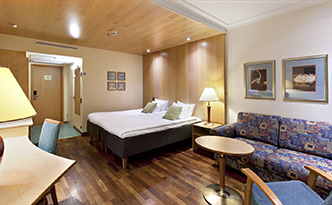 Book online
The hotel includes standard rooms and suites.
The rooms on the highest floors command a spectacular view of beautiful Lake Näsijärvi.
These first-rate rooms provide ample room for families. The sofa-bed can be easily converted into a bed for two children.
The comfortable hotel rooms with parquet floors have been decorated in warm tones and feature a balcony.
All rooms at Holiday Club Tampereen Kylpylä are non-smoking and include an Internet connection.
The hotel is a separate building some 20 metres from the main building.
We have reserved the two lowest floors of the hotel for guests travelling with pets.
HOLIDAY APARTMENTS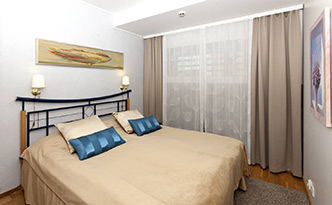 Book online
All holiday houses available at Holiday Club Tampereen Kylpylä are uniquely decorated with high-quality materials. After all, a little something extra befits the age-old, one-of-a-kind environment.
Whether you choose an intimate mini suite in the spa hotel, a three-bedroom apartment or anything in between, you will always live in style.
In many of the holiday apartments, space and flavour has been added with a loft, balcony or even a private terrace. The accommodations also include a well-equipped kitchen.
Although many of the apartments have a sauna and whirlpool bath, nothing could be simpler than donning a dressing gown and riding the lift directly to the luxurious spa downstairs.
TIMESHARE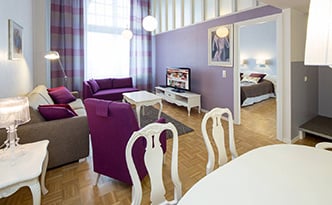 Read more
Holiday Club Tampereen Kylpylä presents high-class surroundings for holiday-making near the centre of Tampere
While staying at Tampereen Kylpylä, you get to enjoy the services of the spa from Harmony Spa treatments to trendy restaurants.
What's best: the city's excitement awaits just around the corner!
As a timeshare owner, you own one or more weeks in the holiday home of your choosing. At other times your investments is rented out profitably.
Check out the resort video
#tampereenkylpyla
Would you like to add your own holiday picture from Holiday Club Tampereen Kylpylä? Share your picture with us on Instagram by using hashtag #tampereenkylpyla.
Contact info
Address
Lapinniemenranta 12
33180 Tampere
Hotel Sales Tampereen Kylpylä
Call +358 300 870 930
hotelsales.tampere@holidayclub.fi
Open Mon–Fri 8 am to 6 pm
Tampereen Kylpylä Reception 24 h
Call +358 300 870 931
Social Media
#tampereenkylpyla