Spa
Spa offers experiences for all ages and tastes. Enjoy the speed of water slides or relax in the atmospheric Sauna World. Pamper yourself with a luxurious Harmony Spa wellness treatment. Holiday Club Saimaa Spa and Wellness section is unique and it offers refreshing spa treatments for the whole family.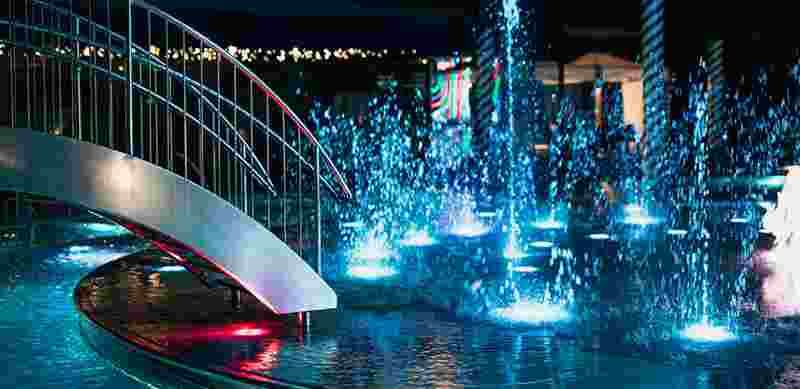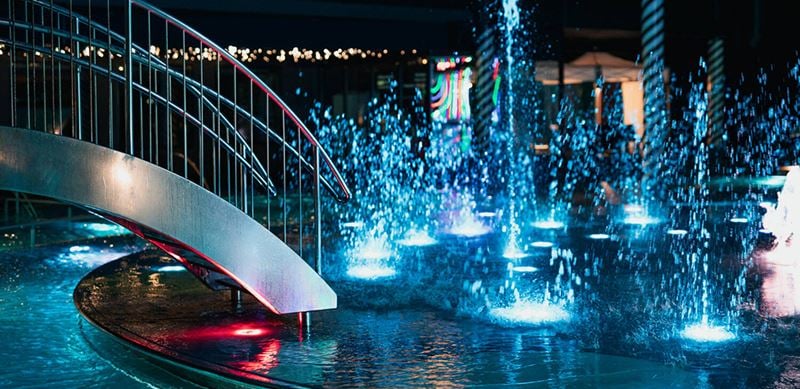 Opening hours and prices
Opening hours until 23.4.23
Mon-Sat 9 am to 9 pm
Sun 9 am to 8 pm

Pools and saunas will close 30 minutes earlier. Saunaworld and rooftop sauna are open at 12 and close one hour before closing time.
Subject to changes reserved.
Spa prices
| | | |
| --- | --- | --- |
| Tickets | Normal | TS Owners |
| Adults | 26 € | - 15 % |
| Children (aged 4–14) | 20 € | - 15 % |
| Family ticket (1+3 or 2+2) | 66 € | - 15 % |
| Additional child to a family ticket | 12 € | - 15 % |
| Students / pensioners | 20 € | - |
| Group ticket, min. 15 adults, payment together | 20 € | - |
| Sauna World Adults | 7 € | - 15 % |
| Sauna World children (aged 4–14) | 5 € | - 15 % |
| 10 Day Adult Pass (valid for 12 months) | 180 € | - 15 % |
| 10 Day Child Pass (aged 4–14, valid for 12 months) | 115 € | - 15 % |
| Combo ticket to spa and Angry Birds Activity Park, adult | 32 € | |
| Combo ticket to spa and Angry Birds Activity Park, child (aged 4–14) | 29 € | |
Pool area basic saunas and roof terrace sauna are included in the spa ticket. Saunaworld ticket requires spa ticket.
Swim-suits and towels rental:
Swim-suit 6 €, Towel 6 €, Spa slippers 3,50 €, Swim nappy for baby 3 €.
Spa is built around a carnival and circus theme. The pool area is reminiscent of a riverbed with both quiet waters and waters for having fun, from the multi-function pool to a pier for diving. In addition to waterslides, the senses are inspired by the central piazza with its fountains and coloured lights.
You can also play water sports and gymnastic in a designated pool. Kids' Iglu-sauna entertains with heated seats and television.
Favourite Spa Fun in Saimaa
The greatest water disco in Finland – a central plaza with fountains, music and colourful lights
A sunny deck on the rooftop of the spa – outdoor pool, hot tub, log sauna and ball games
Sauna World experiences from a salt sauna to a traditional cottage sauna
Racer Slide with three water slides. Who will slide the fastest?
113 metres of fun with the Magic Tube
A pier for dive and flip practices
Multi-function pool for joyful water games
A number 8 shaped pool reminiscent of a riverbed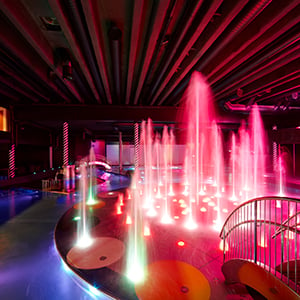 Sauna world – playful combinations of steam, colour and sound, the salt sauna and our own Master of Sauna – offer relaxing experiences.
After a hot sauna, you can enjoy refreshing special showers. There is also a little pool and relaxing area.
And do not forget the Igloo sauna for small children with heated seats and televisions in the spa area.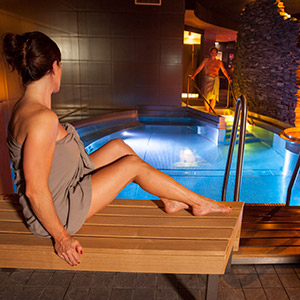 The Harmony Spa is located in the basement of the Gant Hotel. Holiday Club Saimaa offers fantastic pampering treatments, oriental treatments, massages and beautician services. Saimaa also offers high-quality personalised manicure, pedicure, nail treatments and hairdresser and barber services. The relaxation room will also take your mind off everyday life.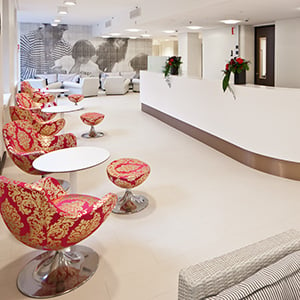 Welcome to enjoy a beautiful summer day to Sun Deck at the rooftop of Holiday Club Saimaa. You can spend the day playing sports such as padel and tennis. If you've got the Spa tickets, you may also relax in jacuzzi or outdoor pool, and rooftop log sauna.
The entrance to the Sun Deck is free for everyone. To get there take the elevator by the 2. floor of the Club-hotel.
Roof top sauna & bath tub open untl 30th Oct.
Good to know
Spa tickets
We recommend buying spa tickets in advance when you make your reservation
The spa is open also to day visitors
Spa and Sauna World tickets are on sale at the spa reception
The Sun Deck on the roof is included in the spa ticket during summer
How to dress
We recommend that hotel guests bring their bathrobes and towels from the room
Changing rooms are common for men and women. Change your clothes in a locker room and leave your belongings into a small locker
The spa wristband also works as a key for the changing room's lockers
For hygiene reasons, spa visitors must wear swimming shorts or swimsuits
Access to the Sauna World only in swimsuit or sarong towel
Spa with children
Waterproof diapers mandatory for children 0–2 years. Swim diapers available can be purchased from spa reception
Children under the age of 10 can access the spa with an adult
10–12 years children (able to swim) with pool permission written by parents.
Age limit for Spa for children without parents is 12 years.
For water slides minimum age is 8 years or minimum height 120 cm
The spa has many childrens' pools: baby pool 26 cm deep, kids' pool 70 cm deep and the flowing current pool 130 cm deep.
Next to the kids' pool there is an Igloo sauna for children, playing cartoons

Notice also
Filming and photographing at the spa is forbidden. You may ask for a special permission from the resort manager
Strong and flashing light effects are used in the spa. These might cause symptoms for migraine sufferers
Access with personal wheel chair, as well as trolleys and walkers, is restricted for hygiene reasons.
Contact info
Address
Rauhanrinne 1
55320 Rauha
Parking
Parking is free in Saimaa. There are electric car charging points in front of the hotel's main entrance. Power application: 4 x 22kW, free download with mobile application. Tesla Destination Charger: 2 x 22kW, free for Teslas.

Customer Service
Call +358 300 870 900
Mon–Fri 9 am to 5 pm
Price 0,60 €/min maximum price 3 € + local or mobile call charge. Waiting time is also charged.

Saimaa Reception 24 h
Call +358 300 870 952
Price 0,60 €/min maximum price 3 € + local or mobile call charge. Waiting time is also charged.
Groups & Meeting Services
Call +358 300 870 923
Mon–Fri 9 am to 5 pm
Price 0,60 €/min maximum price 3 € + local or mobile call charge. Waiting time is also charged.
Social Media
#holidayclubsaimaa