Holiday Club Saimaa Restaurants
In Holiday Club Saimaa, you can find restaurants with different atmospheres. Enjoy juicy steaks in charcoal aromas in Le Biff restaurant, or choose a lighter lunch from Easy Kitchen's dinner buffet. In sports bar O'Learys you get to enjoy Boston-style food in great atmosphere and watch sports at the same time. Enjoy tasty meal at Classic Pizza. Spend the evening in Beatles Bar enjoying good drinks and small snacks.
Choose your favourite or test them all!
Spa hotel, indoor sports facilities are open
Service open:
Hotel, Villas apartments and Harmony Spa open normally
Hotel reception and R-kioski open normally
Our restaurants serve: O'Learys, Classic Pizza, Le Biff and Beach House by Robert´s Coffee, opening hours can be found here
Breakfast daily 7–10.30
Spa open daily 10–20
Sauna World, roof top sauna and outdoor pools opening hours can be found from here
Gym in center Capri open daily 6–24
Bowling 10–20
Angry Birds Activity Park, opening hours can be found here
Ice Arena is open
M-market Capri will be closed after 12.6
Follow the updated information from here
Breakfast from 7 am to 10:30 am
Breakfast buffet includes various choices for many tastes. You can choose from porridge and fresh fruits to eggs and bacon. We also have gluten-free and lactose-free alternatives for allergics.
Breakfast is served daily from 7 am to 10:30 am in the Easy Kitchen restaurant
Breakfast is included in the hotel room price
Remember to take your room key to confirm your access
Breakfast for holiday house and Villas guests: 15 €, children 4–14 years 10 €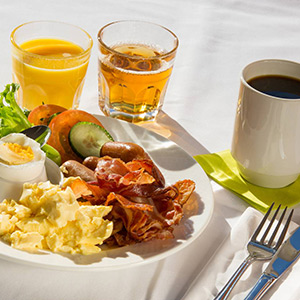 Delicious lunch buffet, including salads, soup, main courses, dessert and coffee/tea. Also the hotel buffet breakfast is served at Easy Kitchen.
Opening hours and prices
Opening hours
Breakfast, Mon–Sun, 7 am to 10.30 am
Lunch, Mon–Fri, 11.30 am to 2 pm
Prices
Breakfast is included in the room price for hotel guests
Breakfast 15 €, children aged 4–14 10 €
10 times card to breakfast 120 € / adult, 65 €/child
Lunch 18.90 €, children aged 4 to 14 years 1 € /year of age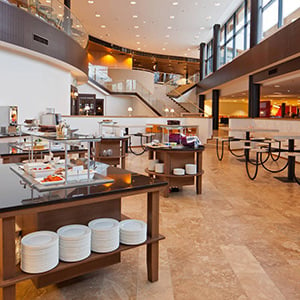 A Jospers charcoal grill ensures juicy steaks and charcoal aromas; the delicious flavours are complemented by food from local suppliers and a comprehensive wine list. Warm à la carte restaurant with different knives to suit the steaks. Cosy terrace during summer time.
The menu is in English, Russian and Finnish.
Opening hours
Opening times
Tue-Sat 18–23 until 13.9.
Fri-Sat 18–23 during 14.9.-11.10.
Reservations from hotel sales office tel. +358 300 870 950 or during opening hours tel. +358 300 870956.
The kitchen is closed an hour before the restaurant closes.
We recommend that you'll reserve a table beforehand.
Group menu reservations seven days before.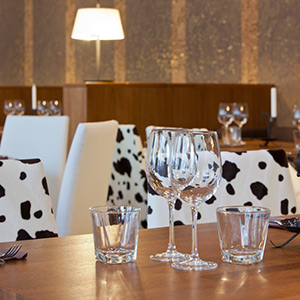 This Boston-style sports bar is a real event bar. The menu has burgers, ribs and other Boston delicacies. 47 television screens allow you to watch Grand Prix racing, football or ice hockey or even the Eurovision song contest. You can also have your own song contest in the separate karaoke corner or spend your evening playing pool and other games.
Opening hours
Opening hours until 11.10.
Mon-Thu 17–23 **
Fri 15–01 ***
Sat 12–01 **
Sun 12–23 **
** Kitchen will close 1 hour earlier
*** Kitchen will close 2 hours earlier
Table reservations
Table reservations at the sales office +358 300 870 950 or at the restaurant during opening hours tel +358 300 870957.
No table reservations during high seasons. Groups over 10 persons please contact restaurant before arrival.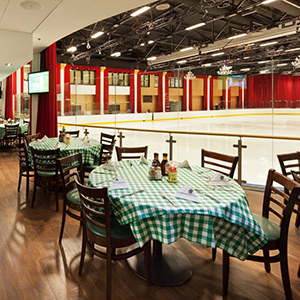 Classic Pizza Restaurant
Classic Pizza Restaurant is relying on the traditions, but at the same time always looking to renew their offering to customers. We are not just a pizza place, but we are committed to creating a complete experience to our customers: a comfortable environment, friendly service, stylish menu and delicious food and drink experience. Our promise has always been to be the better pizza restaurant, a solace for our customers to come back over and over again to enjoy gorgeous food and take a breather from their busy lives.
Relax and enjoy Classic Pizza Saimaa.
Opening hours
Opening hours until 13.9.
Mon-Thu 12–22 *
Fri-Sat 12–23 *
Sun 12–20 *
Opening hours 14.9.–11.10.
Mon-Thu 13–22 *
Fri 13–23 *
Sat 12–23 *
Sun 12–20 *


* The kitchen closes 30 minutes before final closing time
** The kitchen closes 1 hour before final closing time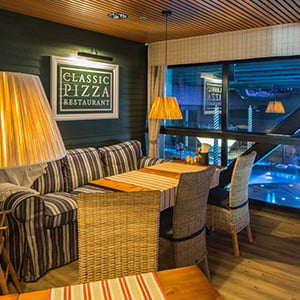 Beatles Bar
The laid-back Beatles Bar is open near the bowling alley and spa departments, and you are welcome to spend your time there and enjoy one of our delicious ice cream portions. For a savoury snack, try our delicious paninis.
Opening hours
Mon-Thu 10 am to 9 pm
Fri-Sat 10 am to 11 pm
Sun 10 am to 8 pm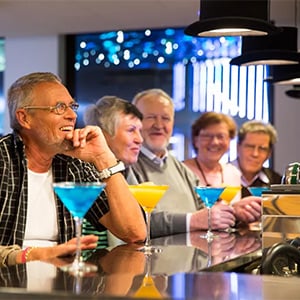 Paviljonki Festival Venue
The historical festival venue Paviljonki, which has been restored to a new glory, is located at the heart of the Holiday Club Saimaa holiday resort and conference centre. Paviljonki's terrace looks out over the open Lake Saimaa. The surroundings offer numerous activities and services that help make your party unforgettable.
Opening hours