Relax at the Caribbean Spa
A spa that's been created in the genuine Caribbean spirit, an indulge wellness section nurturing both body and mind and versatile restaurants all ensure that the entire family will enjoy the experience. You're welcome to embrace the sources of energy that surround you – we're already waiting for you!
Spa hotel, gym and some of the restaurants are open
We have opened the hotel, spa and most of the restaurants in Caribia with limited opening hours. Welcome!
Hotel rooms and Villas apartments are available normally
Our restaurants serve: Hesburger Mon–Sat 11–20, Sun 11–19 and Classic Pizza Restaurant Mon–Sat 15–21, Sun 17–21. O'Learys open Mon–Sat 17-23 (kitchen until 22), Sun 15–22 (kitchen until 21.30)
Breakfast is served at Terrace restaurant daily 8–10.30
Spa is open Mon–Sat 10–21.10, Sunday 10–20.10
Harmony Spa is open daily
Minigolf is open! Payment and equipment can be handled from hotel reception
Water aerobics have continued with the summer schedule
SuperPark is open again!
Follow the updated information from here
Opening hour and prices
Spa is open Mon–Sat 10 am to 9.10 pm and Sun 10 am to 8.10 pm
for hotel guests as well as day visitors.
Prices
Normal
Timeshare owner
Adults
20 €
16 €
Children 4–14 years, (children under 4 years for free)
15 €
13 €
Students/pensioners
15 €
13 €

Family ticket (1+3 or 2+2)

55 €
44 €
All visitors under the age of 12 must be accompanied by an adult
Rental:
Swimsuit 7 €, towel 5 €, bathrobe 5 €
Water aerobics
Water aerobics have continued with the summer schedule!
Water aerobics is an efficient workout for all ages, sizes and shapes. The classes are held in the shallow exercise pool of Caribia spa. The motions in the water are soft and effective and gentle for joints. Suits well for rehabilitation and individuals with back and neck conditions. Also men are warmly welcome to participate!
Water aerobics – schedule and prices
Water aerobics schedule beginning 29 June
Mon
Tue
Wed
Thu
Fri

10.30 am

Water aerobics

10.30 am

Water aerobics

6 pm

Water aerobics (Army)

6 pm

Water aerobics

No lessons on mid-week holidays or during 17-18 October.
Max. 25 persons in one class.
Army- Water Aerobics is harder than the regular Water Aerobics -lesson and involves army style movements and music.
Notice that hair must be washed before the lesson or has to be covered with a showercap.
Prices
Regular
Students/pensioners
Single visit
8,50 €
7,50 €

Multi-ticket 10 visits
(valid 6 months)

60 €
54 €

Registration starts 30 min before training. After the class you have 30 min time to change and return the key to the Spa reception.
Schedules are available at the Spa reception.
All monthly and multiple visit passes are subject to a 8 € surcharge. Return your card and you will be given an extra session for free.
For registration and more information please contact Spa reception, tel. + 358 300 870919.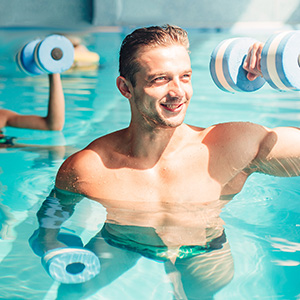 Harmony Spa
Experience sheer bliss as you indulge in head-to-toe pampering at the Holiday Club Caribia. Our high-quality treatments, always tailored to your individual requirements, guarantee an unforgettable experience to complete your spa experience with us. Relax with a massage after a day's skiing or hiking and enjoy our wonderful body treatments and facials.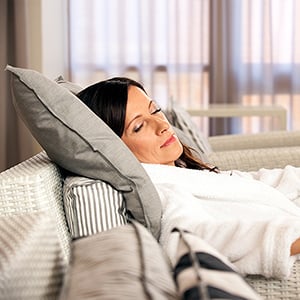 The spa features a heated outdoor pool with a set of caves, a pool for adults, a junior pool, two Jacuzzis and a children's pool. A Fitnesspool is a 16.7 m pool which accommodates those wishing to swim laps. You can also try a dip in our cold pool, next to the heated outdoor pool.
Pool area
Indoors
2 big pools
Counter-current swimming
Jacuzzis
Children's pool
Swimming for exercise
Massaging jets
3 big waterslides

Outdoors
Warm outdoor pool with caves
Cold plunge pool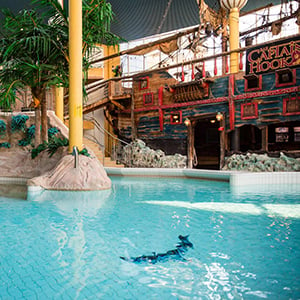 Pool Bars
Pool Bar Captain Hook is serving refreshments in the pool area. Fast food restaurant Hesburger also serves as a pool bar.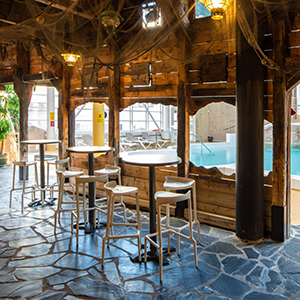 Sauna area
Among your spa visit you may also enjoy the Sauna section. Relax in traditional Finnish sauna (separate for women and men) or in common steam sauna. Smoke sauna of the outdoor Sauna Village is on hire for groups.
Private Sauna
The Sauna village
An exotic oasis is situated in the inner court of the pool area. The Sauna Village combines Finnish sauna culture with warm waters of Caribia. The Village offers the warmth of a smoke-sauna and traditional wood-sauna.
The atmospheric Sauna Village facilities are for about 25 people and can be booked separately. There are two separate dressing rooms, two shower rooms and a stylish larger room with a fireplace, where services can be provided according to customers wishes from drinks to dining.
Normal price: 530 €/3 hours
Extra hours 50 €/starting hour
Private Sauna
There are three high-quality private saunas in Caribia, with space for 10-15 people in each. Each private sauna has its own dressing and recreational amenities, sauna and shower room. Caribia Lounge steamroom is available for all three saunas. The Private Sauna is also ideal for small meetings. Services from drinks to dining can be provided according to customers wishes.
Normal price: 300 €/3 hours
Extra hours 50 €/starting hour
For more information and reservations, please contact the sales office:
email: hotelsales.caribia@holidayclub.fi, tel. +358 300 870 920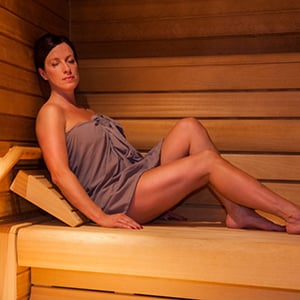 Birthday Party at Caribia Spa
Not availabe at the moment
The birthday parties can be arranged within the opening hours of the spa. If you wish to arrange the party on a Sunday or midweek holiday we will charge +20% of the total amount of the party.
Activities

The activities include fun in the water with different equipment and slides, enjoying snacks and swimming time. The birthday instructors meet the children at the spa reception and will take care of them all the way until the end of the party. The party lasts for 2,5 h.
Prices
246 € per 10 children
additional children 23 € per person
Notice: Only for children with swimming skills!
Opening hours
Mon–Sat 10 am to 9 pm, Sun 10 am to 8 pm.
The birthday parties can be arranged within the opening hours of the spa. If you wish to arrange the party on a Sunday or midweek holiday we will charge +20% of the total amount of the party.
Menu
Hesburger hamburger or fries
chips
candy
cookies
juice or soda
Reservations
Our sales services tel: 0300 870 920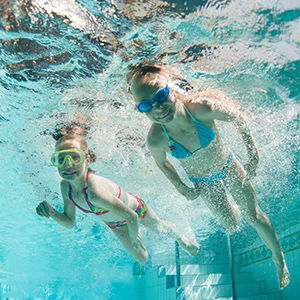 Good to know
There is no time limit during your spa visit.
All visitors under the age of 12 must be accompanied by an adult.
For groups, 1 adult is required per 6 children.
Swimming shorts allowed (max. knee-length)
Photographing is not allowed in the Spa area, saunas, showers or dressing rooms. Resort Manger can admit a separate permission.
Entrance for hotel guests to Spa only via Spa reception for the time being. Please change into the bathrobe beforehand in the room (we recommend to take a towel also with you). Swimming suit can be dressed up in the dressing rooms at the spa. There are separate lockers for hotel guests where you can leave your things.
Slippers are included in the price of the Superior rooms and Junior Suites.
If you need a pair, you can buy them from the hotel or spa reception (3,50 €/pair).
Shopping in the pool area
If you want to buy something from the pool area, you can open up your shopping privilege with credit card or cash.
Swim nappies, swimming goggles and floating devices are sold at the life guards office in the pool area.
Contact info
Welcome to Holiday Club Caribia!
Reception is open 24 h
Left-luggage space at the reception
| | Check-in | Check-out |
| --- | --- | --- |
| Hotel | at 3 pm | at midday |
| Villas apartments | at 4 pm | at 11 am |
| Holiday houses | Fri at 6 pm | Fri at 11 am |