Restaurants
Holiday Club Caribia restaurants cater for all tastes, serving up everything from sit-down meals to snacks on the go. Choose your favourite or test them all!
A new, fabulous Classic Pizza Restaurant with a champagne lounge has been opened next to the spa reception. Downstairs you will find burgers at Hesburger which also serves as a pool bar. Restaurant Terrace serves breakfast and also lunch on weekdays. The restaurant can be rented for private events. O'Learys sports bar is the favourite living room of sports fans and a perfect restaurant for families.


Spa hotel, gym and some of the restaurants are open
We have opened the hotel, spa and most of the restaurants in Caribia with limited opening hours. Welcome!
Hotel rooms and Villas apartments are available normally
Our restaurants serve: Hesburger Mon–Sat 11 am to 8 pm, Sun 11 am to 7 pm and Classic Pizza Restaurant Mon–Sun 1 to 9 pm. O'Learys open Mon–Sat 3 to 11 pm (kitchen until 10 pm), Sun 3 to 10 pm (kitchen until 9.30 pm)
Breakfast is served at Terrace restaurant Mon–Fri 6.30 to 10 am and Sat–Sun 7 to 10.30 am
Lunch is served at Terrace restaurant Mon–Fri 11 am to 1 pm
Spa is open Mon–Sat 10 am to 9 pm, Sunday 10 am to 8 pm
Harmony Spa is open daily
Minigolf is open! Payment and equipment can be handled from hotel reception
Water aerobics at the pool area. Check the summer schedule
Summer opening hours at SuperPark until 11 August: Mon–Fri 11 am to 7 pm, Sat 11 am to 8 pm, Sun closed.
Follow the updated information from here
Welcome to Restaurant Terrace
The restaurant serves breakfast and on weekdays also lunch at a buffet table. The restaurant can also be rented for private use for stylish dinner parties or meetings. Restaurant Terrace is available for cocktail parties, weddings and exhibitions. There are places for 280 persons in the restaurant and there is also a separate cabinet for up 20 persons.
Breakfast

Breakfast buffet includes various choices for many tastes. You can choose from porridge and fresh fruits to eggs and bacon. We also have gluten-free and lactose-free alternatives for allergics.
Breakfast is included in the hotel room price
Remember to take your room key to confirm your access
Breakfast for holiday house and Villas guests: 15 €, children 4–14 years 10 €
Opening hours and prices
Breakfast Mon–Fri 6.30 to 10 am, Sat–Sun 7 to 10.30 am
The breakfast buffet has a great assortment of sweet and savoury, hot and cold delicacies. Breakfast buffet is included in the hotel room rate.
When staying at the Villas holiday apartments there is a surcharge for the breakfast.
Even if you are not staying at our hotel, you can enjoy our breakfast for 15 € per person, children 10 € (4–14 years old). Have a great start to the day!
Lunch buffet Mon–Fri 11 am to 1 pm
Adults 13 € per person
Children 4–14 years 6,50 € per person
Price includes main course or soup of the day, bread, plentiful salad table and coffee or tea. Free of charge for under 4 years old children when adult is also eating at buffet.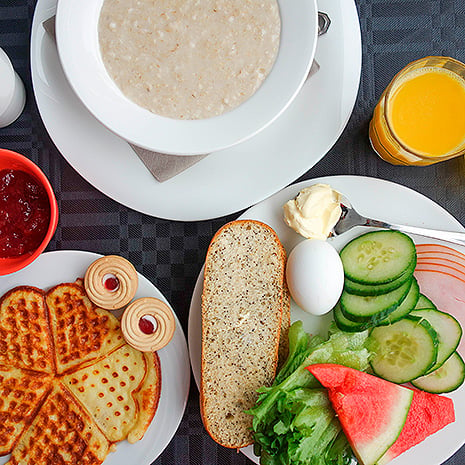 Classic Pizza Restaurant is relying on the traditions, but at the same time always looking to renew their offering to customers. We are not just a pizza place, but we are committed to creating a complete experience to our customers: a comfortable environment, friendly service, stylish menu and delicious food and drink experience. Our promise has always been to be the better pizza restaurant, a solace for our customers to come back over and over again to enjoy gorgeous food and take a breather from their busy lives.
Welcome to relax and enjoy to Classic Pizza Restaurant Turku at Holiday Club Caribia.
The Boston style family restaurant and sports bar at Caribia. You can follow your favourite sports on large screens. The sports bar serves a wide selection of beers to taste, the best burgers, famous ribs and other American favourites. O'Learys has a menu for kids. Welcome!
Opening hours and menus
Opening hours
Mon–Sat 3 to 11 pm, kitchen open until 10 pm
Sunday 3 to 10 pm, kitchen open until 9.30 pm
Tel. +358 300 870918
Menu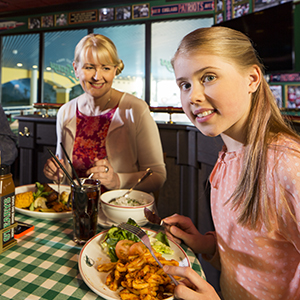 Boston Bar Lounge is a atmospheric lobby bar styled restaurant next to the hotel reception. Boston Bar serves a wide variety of refreshments and drinks. From the big screens you can also watch you favourite sports.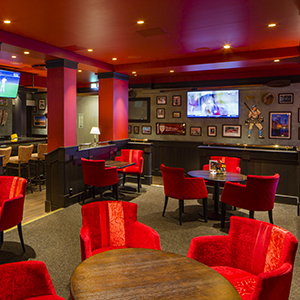 Hesburger
Hesburger is a fast food restaurant that serves hamburgers, salads and delicious smoothies and soft ice cream desserts. At Caribia the Hesburger serves also at the pool area and as a pool bar.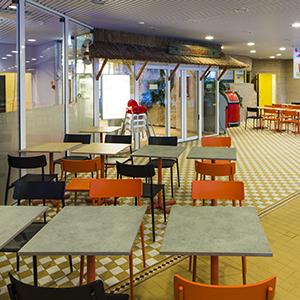 Pool Bar Captain Hook
The nearly 30-metre pirate ship serves refreshing drinks by the pool. On sunny summer days Captain Hook's Sun Deck is open for sunbathers. The pool bar Captain Hook was designed by Sakke Järvenpää.
Opening hours
Closed until further notice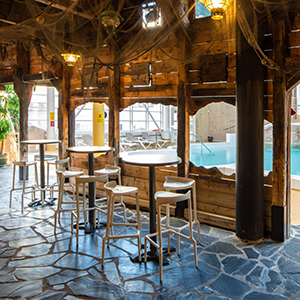 Gluten-free choices at our restaurants
Breakfast: an own table for gluten-free products. Here you can find e.g. oatmeal porridge, bread, pastries, muesli and rice cakes.
Classic Pizza: salads and gluten-free pizza base available. Ask our staff for more information when ordering.
O'Learys: gluten-free hamburgers and other dishes available. Ask our staff for more information when ordering.
Hesburger: gluten free hamburger, salads, fries, smoothies and deserts available. For more information: Hesburger.com
Contact info
Welcome to Holiday Club Caribia!
Reception is open 24 h
Left-luggage space at the reception
| | Check-in | Check-out |
| --- | --- | --- |
| Hotel | at 3 pm | at midday |
| Villas apartments | at 4 pm | at 11 am |
| Holiday houses | Fri at 6 pm | Fri at 11 am |