Located on a naturally beautiful cape, along the shores of the Kivijärvi lake, the Hannunkivi holiday village radiates the essence of Finland's nature. The atmosphere in Hannunkivi is leisurely and has a quieting effect on your mind.
HOLIDAY APARTMENTS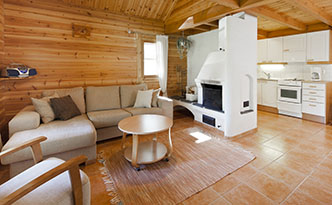 Book online
All holiday cottages at Hannunkivi are decorated with style. Spacious apartments and well-equipped kitchen provide the possibility to enjoy a peaceful holiday with the whole family.
Modern equipment of the holiday houses provide a luxurious holiday during every season of the year!
Contact info
Check-in/Check-out
| | | |
| --- | --- | --- |
| | Check-in | Check-out |
| Holiday houses | Fri/Sat at 4 pm | Fri/Sat at midday |
Key service at Hannunkivi reception
Opening hours
Mon 11 am to 4 pm
Tue closed
Wed 11 am to 4 pm (11 am to 8 pm)
Thu closed (3 pm to 8 pm).
Fri–Sat 3 to 7 pm (2 to 8 pm)
Sun closed (2 pm to 8 pm)
(Exceptional opening hours during high season, summer weeks 23–35)
Address
Hannunkiventie 1
43800 Kivijärvi
Customer service
Call +358 300 870 900
Mon–Fri 9 am to 5 pm
Price 0,60 €/min maximum price 3 € + local or mobile call charge. Waiting time is also charged.
customer.service@holidayclub.fi
Key service
Call +358 400 429 915
Lost and found
Please contact to the key service, tel. +358 400 429 915
Social media
#holidayclubhannunkivi