Saariselkä – The Northernmost Spa
The tropical spa at Holiday Club Saariselkä is the very essence of relaxation. This warm and tropical spa is the northenmost spa in Europe. Our superbly comfortable pool area is a draw for the young and old alike, where you can enjoy a dip in the Jacuzzi, feel the refreshing effects of the massage jets and experience the glorious warmth of the traditional Finnish sauna - before indulging yourself in some wonderful treatments from our extensive range.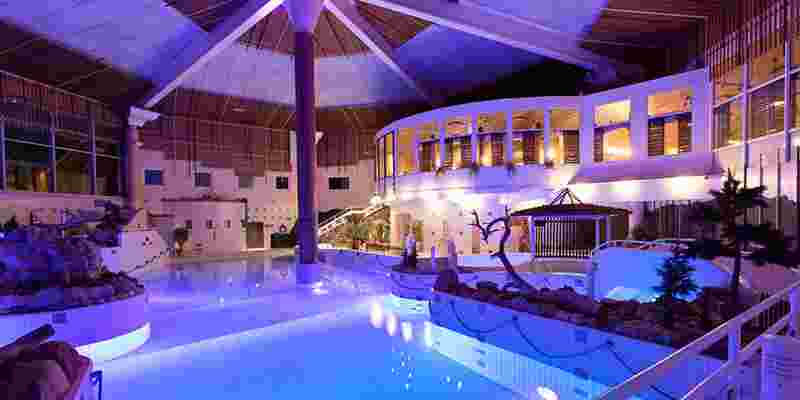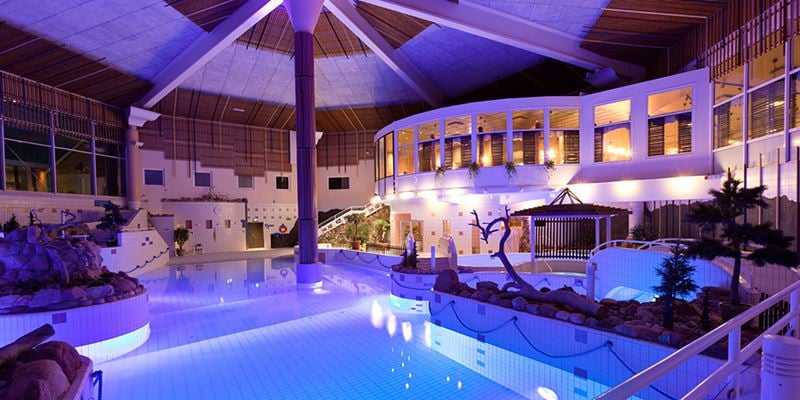 Spa is open:
14.00–21.00 daily

Pool area will be closed 30 minutes before closing time. We reserve the right to change schedules.


Relax in Saariselkä spa's northern atmosphere. Enjoy bubbles in the jacuzzi, or water-jet massages, or relax in traditional Finnish sauna. Shallow kids' pool and toys entertain children.
Jacuzzi
Massaging jets
Countercurrent swimming
Water slide
Children's pool and water toys
Sauna World
Ticket prices
Waterpark prices
| | |
| --- | --- |
| Ticket | Normal |
| Adults | 24 € |
| Children (4–14 years) | 18 € |
| Family ticket (2 adults + 2 children or 1 adult + 3 children) | 60 € |
| Pensioners/students | 18 € |
| 10 times card for adults | 180 € |
| 10 times card for children aged 4 to 14 | 115 € |
Timeshare owners
By showing your Holiday Club ownership card you get 15 % discount on all spa tickets (pensioner, student and group tickets excluded).
Swimsuits, towels etc. are can be rented for an additional fee:
| | |
| --- | --- |
| Gear | Price |
| Swimsuits | 6 € |
| Towels | 6 € |
| Spa slippers | 3 € |
| Bathrobes | 6 € |
| Swim nappies for babies | 3 € |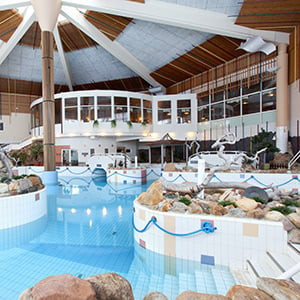 Aurora Spa Saariselkä
Treatments & Well-being
Make a journey of discovery to feeling good!
The Holiday Club Saariselkä wellness department offers a comprehensive menu of pampering and relaxing treatments for our guests' enjoyment. Our treatments give a touch of luxury and total relaxation. You can relax and trust that the treatments are done in a professional manner for you in selected industry-leading products, competently and without haste. Feel good over the entire body.
Lapland Treatments
Treatment

Price

Trip to the Arctic to feeling good 25 min.
Experience Lappish music and the touch of harmony. Simple and soothing head massage, which is carried out on the reindeer hides. Relieves stress and alleviates its symptoms. Oil is not used, and it does not need to undress.

49 €

The midnight sun facial treatment 30 min.
In the treatment is used the Northern wild nature's gifts. Lingonberries and cloudberries that have received power of Lapland nightless summer. Includes cleansing, your skin type mask, hand massage, face and eye cream.

69€

Massage of the fells 55 min.
Muscles of the back are heated with the heating pad. A relaxing massage on the hands, neck, back and shoulders.

85€

Lapland hot stone massage 50 min.
In the treatment we use warm stones, which are washed out of the Lake Inari´s waves. Warm stones stimulate body's energy points, when the body releases tension and stress. Heat from the stones transfers deep into the muscles. As a result this massage not only delivers a great sense of wellbeing, but also provides instant relaxation.

89€

Aurora Borealis body treatment 50 min.
Finnish Tupasvilla is one of the northern natural active substances. Tupasvilla extract moisturizes, protects and nourishes the skin effectively. Body scrub and light massage effects to your skin and gives glory and radiance. As a result, relaxed feeling and a luxuriously soft, smooth skin.

89€
Treatments for children (4 to 14 years old)
Treatment

Price

My first massage 25 min.
Includes a massage of back, neck, shoulders and arms.

38€

Small hands or toes 25 min.
Hands or toes nail care and polish. Nail decoration and a light massage.

38€
Massages
Aromatherapy massage is an effective body massage that brings well-being for body and mind. The therapeutic effect is determined by the Finnish Ulla-Maija Grace (UMG) high quality aromatic oils.
Treatment

Price

Aroma massage 25 min.
Back, chest and neck area, relaxing treatment.

45 €

Aroma massage 50 min.
Relaxing treatment for the back, chest, neck, arms and legs.

79 €

Aroma massage 75 min.
The most complete aroma massage. It covers back, arms, feet, legs, chest, neck, shoulders and face.

99 €
Classic massage 25 min.
45 €
Classic massage 50 min.
79 €
Classic massage 75 min.
99 €
Body Treatments
Treatment

Price

Regenerating Body Scrub 50 min.
Moisturizing and skin softening, luxurious body peeling. Treatment includes also a gentle massage with nourishing body lotion. It´s also suitable for pregnant and breast–feeding mothers.

79 €

Shape
Shaping body treatment, effective particularly in adipose tissue. The skin tissue in stomach and waist area is activated and firmed up by effective DibiSkin RF radio frequency technology.

132 €

Meso "Cellulite Destroy" Treatment
Cosmetic treatment to reduce the size of micro and macro nodules. Skin tissue becomes stronger and orange-peel skin stabilizes. Treatment is more effective due to activating and firming DibiSkin RF–radio frequency technology.

145 €

Tonic Elasticity and Firm for Skin
The abdomen, thighs and hips area are treated with effective care products in addition to DibiSkin RF-radio frequency technology.

153 €

Arm Treatment
Loose skin areas in the arms are treated with effective care products in addition to DibiSkin RF-radio frequency technology.

51 €
Sugaring
Sugaring is a gentle and effective treatment method to get rid of the disturbing hairs smart and fast. Body sugaring will gently remove the dead skin cells.
| | |
| --- | --- |
| Treatment | Price |
| Lower legs / thighs | 40 € |
| Legs entirely | 80 € |
| Armpits | 25 € |
| Upper lip / chin / eyebrows | 20 € |
| Bikini line | 40 € |
| Arms entirely | 45–50 € |
| Back / stomach / chest | 50 € |
Facial treatments
Salon offers exclusive beauty treatments, either classically handmade, effectively with ultrasound device or with the assistance of the latest technology of RF–radiofrequency device.
All facials include a skin cleansing, if necessary, scrub, mask, serum and moisturizer and eyebrow shaping. Facials include a massage, which is determined according to the selected facial treatment.
Treatment
RF–Radio Frequency Device
Classic

Firming
The treatment corrects already created signs of aging. Suitable for adult skin, which has problems with wrinkles, lines and lack of firmness. Duration approx. 60 min.

148 €

Moisturising
Intensely moisturizing treatment provides softness for the skin and traps moisture in. The skin becomes fresh and soft again. Duration approx. 60 min.

138 €
108 €

Calming
The treatment is designed for sensitive and atopic skin type, as well as skin that is red and easily reactive. 60 min.

138 €
108 €
Treatment

Price

Pampering Facial Treatment 80 min.
Includes skin cleansing, relaxing hands, neck, scalp, face and eye contour massage, special mask, serum and a face crème and eyebrow shaping. The treatment uses either a moisturizing, soothing, cleansing or revitalizing active ingredients depending on what your skin needs.

159 €

Man Power - energizing facial treatment . 60 min.
Facial treatment especially for men. To refresh and reduce the signs of fatigue.

108 €

Eye Treatment 35 min.
Eye contour treatment fits for all. In particular, if problem is dark circles around the eyes, swelling, or wrinkles at the corners of the eyes.

55 € ( In connection with facial treatment 35 €)
Manicures
Treatment

Price

Manicure 60 min.
Full service for hands and nails which includes nail design, cuticle care, exfoliation, a hand bath and a luxurious moisturiser.

Nail polishing in connection with manicure (incl. the lacquer) 8 €

79 €

Mini Manicure 25 min.
Effective fingernail cleaning treatment. Cuticles are massaged with nourishing oil, nails are shaped beautifully and painted with a light and a translucent shade. You will get the bottle of lacquer with you.

42 €
Pedicures
Treatment

Price

Perfect pedicure approx. 60 min.
Includes a foot bath, exfoliation, nail and cuticle care, hard skin removal and foot massage.
Nail polishing in connection with pedicure.

135 €
Make up
| | |
| --- | --- |
| Make up | Price |
| Evening make up / wedding make up | 80 € |
| Day make up | 35 € |
| Day make up after facial treatment | 25 € |
Spa etiquette
We hope that you will come on time before the start of treatment. When booking, do not forget to mention about pregnancy, allergies or other diseases that may affect the treatment. Treatments have limitations.
Report any cancellations on the previous day at 16 o'clock. If the cancellation is made, we will charge 50% of the cost of the treatment. If the booked service is not used and reported before the cancellation, we will charge the total price of the reserved treatment.
Please note that on Sundays and public holidays the prices are increased by 15 %.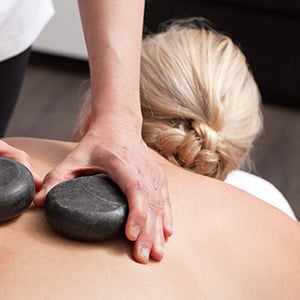 Lymphatic massage
Arm treatment 35 €/ 25 min
Lower body treatment 55 €/50 min
Lymphatic drainage massage with device is suited for:
tired limbs
recovering after athletic performance
swelling, effusion, accumulation
cellulite
weight loss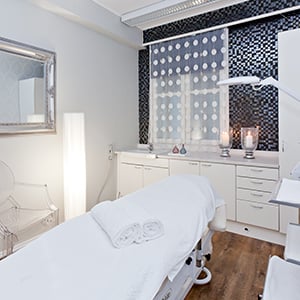 Good to know
Parents are always responsible for their children in the pool area.
Children under 10 years old must be accompanied by a person aged over 15 in the pool.
10 to 14 years old children are allowed to go in the pool without their parents supervision only if they have a parent's permission form.
Forms are found from the reception.
If you are planning a visit with a group of over 30 people, please contact the sales service on +358 (0) 300 870 923 (0,60 €/min maximum price 3 € + local or mobile call charge)
Contact info
Welcome to Holiday Club Saariselkä!
Reception is open 24/7
The key service is located at the reception
Left-luggage space at the reception


Parking
Parking in Saariselkä is free in the outdoor areas. The paid parking garage (12 €/day) attached to Villas Spa Lodge 1 and Villas 2 has electric car charging points. Power application: 4 x 22kW, free charging with mobile application. Tesla Destination Charger: 2 x 22kW, free for Teslas.
| | | |
| --- | --- | --- |
| | Check-in | Check-out |
| Hotel | at 4 pm | at 12 pm |
| Holiday houses | | |
| Kermikkä | at 4 pm | at 11 am |
| Laavutieva, Niilihonka, Riekonraito, Tirrolampi | at 5 pm | at 11 am |
| Kelotirro, Siulaselkä | at 6 pm | at 12 pm |
| Villas apartments | at 4 pm | at 11 am |
Address
Saariseläntie 7
99830 Saariselkä
FINLAND
Customer Service
Call +358 300 870 900
Mon–Fri 9 am to 5 pm
Price 0,60 €/min maximum price 3 € + local or mobile call charge. Waiting time is also charged.
Saariselkä Reception 24 h
Call +358 300 870 969
Price 0,60 €/min maximum price 3 € + local or mobile call charge. Waiting time is also charged.
reception.saariselka@holidayclub.fi



Social Media
#holidayclubsaariselka