Tropical Spa
Richly decorated with exotic plants and flowers and smooth natural rock, Holiday Club Kuusamo's stunning pool area is a lush, tropical oasis in the midst of the Finnish wilderness. The pools' warm bubbles invite you to sit back and simply relax. Feel the age-old therapeutic effects of water as you enjoy the many delights the spa has to offer.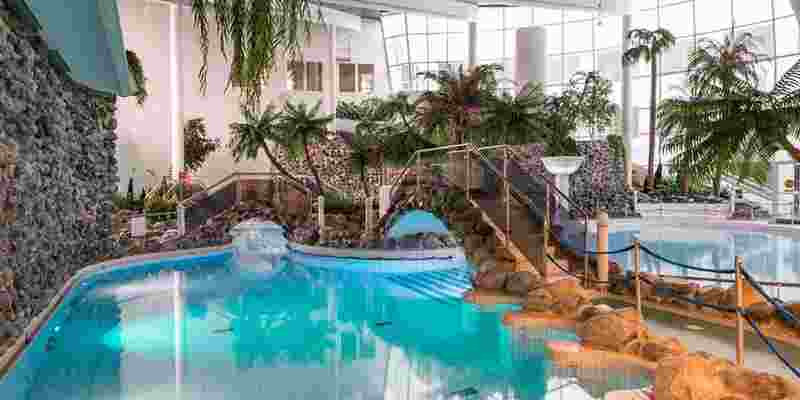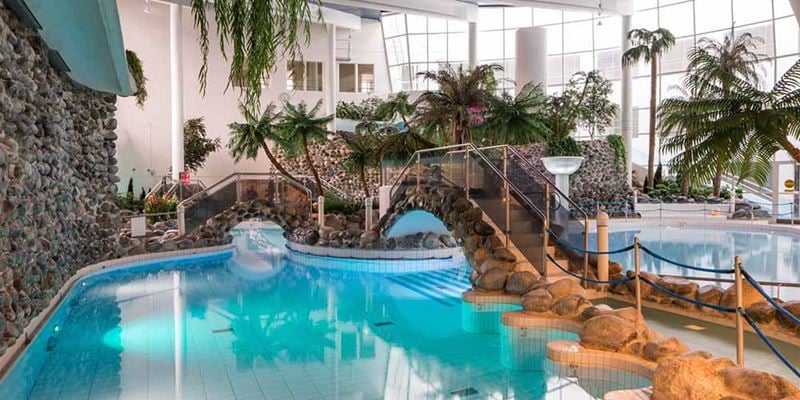 Changed opening hours
Updated information for Kuusamon Tropiikki services
Kuusamon Tropiikki Spa department will be open 19.12 from 14.00.
Spa open daily 2pm–9pm
In Kuusamon Tropiikki from December, 19 will be open the following services:
Angry Birds Park 2pm-9pm
Bowling 2pm-9pm
Servicies
Reception and R-kioski serve normally
Restaurant Mango, breakfast Mon-Fri 6.30am–10.30am, Sat-Sun 7.30am–11am. Lounas Mon-Sat 11am–2pm
Restaurant Mango, breakfast 25.12 - 3.1 daily 7am-11am
Restaurant Mango, Christmas brunch 25.12 midday-4
Restaurant Mango, lunch 26.12-3.1 daily 11am-2pm
O'Learys daily 2pm–10pm
Angry Birds Park Mon-Sun 2pm–9pm
Bowling from December, 23 2pm-9pm, Monday and Tuesday closed
Gym is closed
Follow the updated information from here
Opening hours and prices
Opening hours
Open Mon-Sun at 1 pm to 9 pm
Spa tickets sold until 8 pm, poll closes at 8.45 pm
| | | |
| --- | --- | --- |
| Prices | Normal | Owners |
| Adults | 20 € | 16 € |
| Children (aged 4–14) | 15 € | 13 € |
| Children (under the age of 4) | free | free |
| Family ticket (2 adults + 1-2 children or 1 adult+2-3 children) | 55 € | 44 € |
Swimsuits and towels rental:
Swimsuit 6 €, towel 6 €, spa slippers 3,50 €, bathrobe 6 €
Enjoy the tropical spa of Kuusamon Tropiikki. At the spa area you can enjoy bubbles of the jacuzzi and massaging jets. Children's pool provides spa fun for children. The Sauna World promotes absolute relaxation with traditional Finnish saunas.
Three jacuzzis
Water slide with tunnels
Massaging jets
Counter-current swimming
Children's pool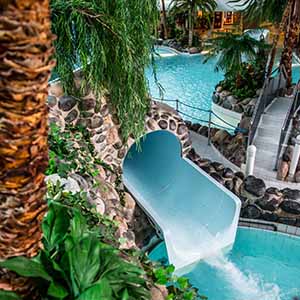 Water Aerobics
Refresh your mind and body by attending one of the guided water aerobics classes. Please, ask the timetable from the reception.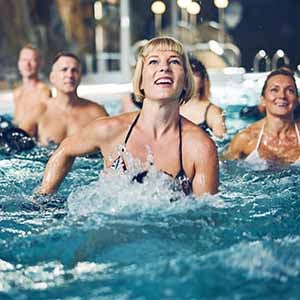 Harmony Spa
The Holiday Club Kuusamon Tropiikki wellness department offers a comprehensive menu of pampering and relaxing treatments for our guests' enjoyment. Our treatments give a touch of luxury and total relaxation. You can relax and trust that the treatments are done in a professional manner for you in selected industry-leading products, competently and without haste. Feel good over the entire body.
Opening hours
Harmony Spa is open Mon–Sat 10 am to 5 pm
Reservations for treatments
Bookings from hotel reception +358 300 870 964 or reception.kuusamo@holidayclub.fi.
We recommend pre-booking treatments prior to arrival at the resort.
Treatments and prices
Body treatments
Thann Spa treatments are given by Thann skin care products. Thann skin care products consist of nature's own ingredients such as top quality essential oils and plant extracts.

Pampering Treatment for Expecting and Nursing Mothers 50 min.

The skin is peeled with gentle Thann Spa corn peeling and rubbed lightly with revitalizing body butter containing Shiso extract.

75 €

Hot Stone 55 min.

A relaxing massage with hot stones. This massage allows your body to release all tension and worries. Heat radiates from the hot stones deep into the muscles and creates a profound sense of well-being.

70 €
Massages
Aromatic Massage is an effective and gentle body treatment for the well-being of your body and mind. The effect is defined by the treatment oil which is selected together with the customer. The essential oils used in the treatment are selected to match the needs of the skin and mind. Aromatic Massages are UMG Wellness treatments: Ulla-Maija Grace treatment methods and products are applied.

Aromatic Massage 25 min.

Gentle, muscle-stretching treatment of back, chest and neck area.

40 €

Aromatic Massage 50 min.

Relaxation treatment of back, chest, neck, arms and legs.

60 €

Aromatic Massage 75 min.

Relaxation treatment of back, chest, neck and shoulder area, arms, legs, feet and face.

80 €

Classical Massage

The area of focus is selected according to the customer's wishes.

25 min. 35 €
50 min. 55 €
75 min. 76 €
90 min. 90 €

Indian Head Massage

Simple and soothing stress relieving massage. No oil is used during the massage and there is no need for undressing.

25 min. 40 €
50 min. 60 €

Anti-Stress Neck Massage

Massage for treating neck and shoulder area pain, tension and other issues.

25 min. 40 €
50 min. 60 €

Neural Pathway Massage 90 min.

Full body gentle, relaxing treatment. Both lengthwise and cross neural pathways, and brain and spinal nerves are treated.

85 €

Sports Massage

25 min 40 €
50 min 60 €
75 min 88 €

Original Thai Massage 80 min

The treatment is conducted by pressing and proceeding along the fascia, wearing a thin layer of clothing. Occasionally efficient stretching is applied treating the whole body.

84 €

Shiatsu

The practice of Shiatsu is based on the pressures (fingers "shi" and press "atsu") firmly with the fingertips, knuckles, palms of the hands, soles of the feet, with the elbow and the knee, a depending on the position and the intensity of stimulation sought, but can also include light stretching and manipulation techniques to obtain the harmonization of the whole energy system.

Shiatsu practice does not involve the use of oils and ointments and is done traditionally clad body and place on a futon on the floor.

• 50 min 60 €
• 75 min 80 €
Spa etiquette
Please arrive at the Harmony Spa about 15 minutes before the treatment is scheduled to begin. This leaves you enough time to relax for a moment before the spa treatment. If you arrive late, the treatment time will be shorter.
Please switch your mobile phone to silent mode. If you use contact lenses, please remember to remove them before the treatment.
The spa therapist will explain the phases of the treatment to you beforehand. This way, you can focus on relaxing and enjoying the experience during the treatment. You may, however, initiate a conversation at any time or make requests related to the treatment.
You should reserve a moment for relaxing in the relaxation room after the treatment. If you wish to use our spa facilities, please do so before your treatment. Most of the treatments make use of different oils whose effect continues after the treatment.
If you are unable to attend your scheduled treatment session, please cancel it at least 24 hours in advance. If the service ordered is not used and no advance notice of cancellation is given, the treatment will be charged for in full. Group treatments can be cancelled without charge seven days before the scheduled appointment. If the treatment is cancelled later than this, we will charge 50% of the full price. No refund is available for treatments that are cancelled less than three days in advance.
We reserve the right to change the prices. Please note the differences in price for treatments done from Monday to Friday and from Saturday to Sunday. The prices for Saturdays and Sundays are also valid for all midweek holidays and other holidays.
Important note: When booking a treatment, please make sure to let us know if you have any relevant medical conditions or if you are pregnant or taking any medication.
Enjoy your Harmony Spa moment.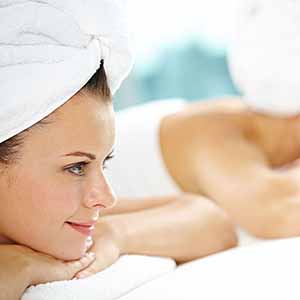 Lakeside Sauna
Lakeside sauna is located by the beautiful Petäjälampi lake close to the spa hotel. It is possible to try ice swimming during winter.
Reservations upon request
150 €/4 h
for owners 130 €/4 h
Two changing rooms and one sauna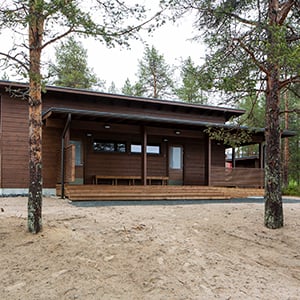 Good to know
Spa tickets
We recommend buying spa tickets in advance when you make your reservation
The spa is open also to day visitors
Spa tickets are on sale at the spa reception
Spa with children
Waterproof diapers mandatory for children 0–2 years. Swim diapers can be purchased from spa reception
Children under the age of 12 must be accompanied by a parent in the spa
Good to know at the spa
The spa is open daily from 1 pm to 9 pm
Entrance to the pool area closes one hour earlier
For hygiene reasons, spa visitors must wear swimming shorts or swimsuits
Contact info
Welcome to Holiday Club Kuusamon Tropiikki!
Reception is open 24/7
The key service locates at the reception
Left-luggage space at the reception
Check-in
Check-out
Hotel
at 3 pm
at 12 pm
Holiday houses
Lomatropiikki, Lomaparatiisi, Lampitropiikki, Rantatropiikki
at 4 pm
at 12 pm
Kuusamon Tähti
at 5 pm
at 10 am
Villas apartments
at 3 pm
at 12 pm