Fishing and hiking
Holiday Club Pyhäniemi area provides many activities for visitors. Enjoy the beautiful landscapes of the Heath Forest or go fishing to Kankarinjärvi lake. Pyhäniemi suits perfectly for families with children or couples looking for peace and quiet around nature. The Pyhäniemi–Käskyvuori fitness route is suitable for effective year-round exercise; a cross-country skiing route in winter and a hiking route in summer. The trail is 42 km long and part of it is lit.
Lake views and fishing
The Kankarinjärvi lake offers active visitors a real active holiday with opportunities for canoeing and boating. Fishermen, get your bait ready! Kankarinjärvi lake is part of a waterway system abundant in pike-perch. Of course, every fisherman has the knack for finding the best places for a catch, but a word of advice: try looking around the more open, deeper parts of the lake.
The Kihniö Taimenkoski rapids are also a place for adventure. The rapids were artificially constructed for fishery purposes in the waterways of Myllyjoki and Koskelanjoki rivers. With the Taimenkoski fishing permit, you can fish for stocked lake trout using a rod and reel or fly fish in the surge of the rapids or in the more peaceful flowing currents. Go canoeing and explore on your own or take a guided four-lake tour that departs from the magnificent landscape around the Kankarinjärvi lake, right from the shores of your holiday destination.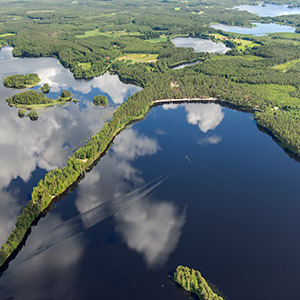 Sandy beach
Holiday Club Pyhäniemi area offers sunbathers and swimmers an enticing sandy beach on which to spend their holiday.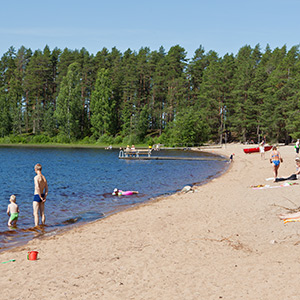 Contact info
Check-in/check-out
| | | |
| --- | --- | --- |
| | Check-in | Check-out |
| Pyhäniemi II, III, V | Fri at 1 pm | Fri at 9 am |
| Pyhäniemi IV | Fri at 5 pm | Fri at 1 pm |
| Pyhäniemi VI | Fri at 5 pm | Fri at midday |
| Pyhäniemi VII, VIII | Sat at 1 pm | Sat at 9 am |
In case you will arrive on another time, please inform the reception by calling tel. +358 (03) 444 0206 from 12 till 20. You will get information about receiving the key.
If the reception is not informed about exceptional arriving time, €20 should be paid for the door opening.
Address
Pyhäniementie 251
39820 Kihniö
Reception
Call +358 3444 0206
Call +358 50 400 4304
Customer Service
Call +358 300 870 900
Mon–Fri 9 am to 5 pm, Sat 9 am to 2 pm
Price 0,60 €/min maximum price 3 € + local or mobile call charge. Waiting time is also charged.
customer.service@holidayclub.fi
Lost and found
Please contact to the key service, tel. +358 (03) 444 0206
Social media
#holidayclubpyhäniemi