Enjoy the outdoors
The hiking trails in the varied terrain around Himos offer hikers memories they will never forget.
Those longing for untouched wilderness can head for the Isojärvi National Park located in the municipality of Kuhmoinen. It is a small area of wilderness with an alternating landscape of lakes and forests.
Bicycle routes wind through the beautiful terrain. You can even cycle along the paved trail 6 km to the center of Jämsä, right from the yard of your holiday home.
Himos Safari also organises four-wheeler safaris and offers driving instructions for those wishing to drive on the roads.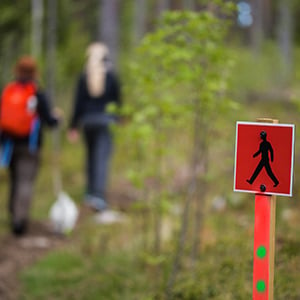 Golf
Himos Hillside Golf is located amidst the naturally beautiful landscape of Himosvuori mountain near the shores of the Patalahti bay.
It is less than a kilometer from Holiday Club's holiday homes.
The 9-hole, PAR 29/58 golf course was designed by Kosti Kuronen.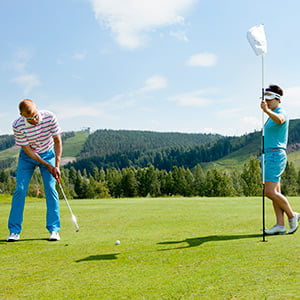 Troll forest
Summertime adventures and games in Troll Forest, which also includes food fuel to keep energy levels high.
A climbing wall, giant chain ladder and a rope ladder challenge adventurers at least 155 cm tall.
You can also test your skills on the adventure trail, which is 10 m high. So get your climbing harness and helmet on and get going!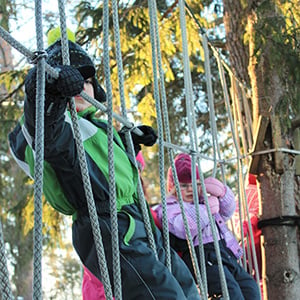 HimosCenter services
Himos Center has an excellent selection of rental equipment including:
Rowing boat (incl. motor, if desired) or canoe (incl. 4 life-vests)
Bicycles (incl. helmets)
Tennis (incl. 2 rackets and 10 balls)
Nordic walking sticks
Rubber boots
Reservations tel. +358 (0)20 711 9210.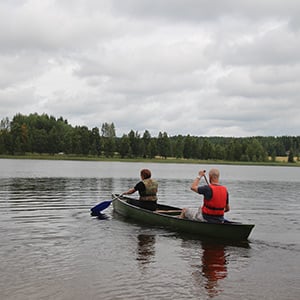 Slopes and trails
25 slopes (with lighting and artificial snow)
Halfpipe for beginners, Snow Park/Street
Largest difference in height: 151 m
Longest slope: 950 m
23.1 km of cross-country trails (traditional and freestyle), lighting: 5.9 km
Connection to the trail network in the Jämsä region (approx. 100 km)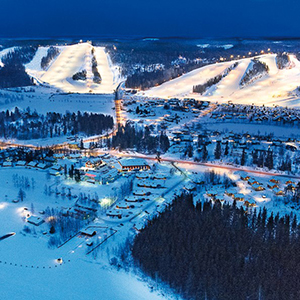 Snow fun family area
The Snow fun family area is approximately two hectare wide area that guarantees plenty of activies for the whole family!
4 lifts and many sliding slopes for skiing, snowboarding, sledding and tubing
A playground with swings and slides
Three lean-tos where you can have a snack break
Toilets with diapper changing tops for the smallest one
You get a free entry to Snow fun family area always with a valid ski pass (note, not one way pass). For those without a valid ski pass, the entrance fee is 12 euros (doesn't include the smart card).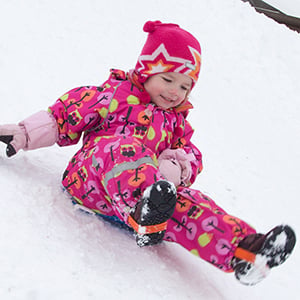 Other winter activities
Himos Safaris offers numerous winter holiday programs including
snowmobile safaris,
snowmobile driving instruction,
rentals,
adventure trail,
ice swimming, N
ordic walking
fishing excursions
weekly winter holiday programs.
Himos Center accepts reservations for Himos Safari's weekly programs and functions as the hub for program services. Tel. +358 (0)20 711 9200, vastaanotto@himoslomat.fi
Himos Center has an excellent selection of rental equipment including
Ice-fishing set
Snowshoes
Nordic walking sticks
Kick-sled
Sleds
Skates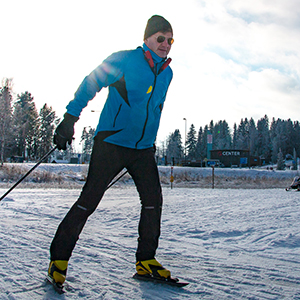 Contact info
Address
Länsi-Himoksentie 4
42100 Jämsä
Customer Service
+358 300 870 900
Mon–Fri 9 am to 4:30 pm
Price 0,60 €/min maximum price 3 € + local or mobile call charge. Waiting time is also charged.
customer.service@holidayclub.fi
Lost and found
Please contact to the key service.
Some
#holidayclubhimos
Holiday apartments' Check-in/Check-out
Check-in: Fri at 6 pm
Check-out: Fri at 11 am
Key Service
The Key Service is located in Himos Center where there is also luggage storage. A 24-hour, on-duty maintenance service serves travelers who arrive after the reception is closed. When reception is closed, you can get the key in the draught lobby of HimosCenter. There is a duty officer's phone number on the front door. By calling the number you will get a code to open the electric lock on the right side of the door.
The front door will open and in the draught lobby there is a wooden box from which you can take an envelope with your or your company name on it. In the envelope there is the map and the key to your apartment.